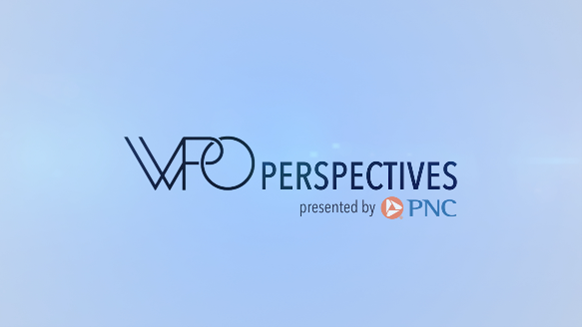 Introducing "WPO Perspectives presented by PNC," a social media series.
What's special about WPO?
For Angela Marshall, it's the sisterhood. "I can remember my first meeting as if it was yesterday… I felt so welcomed," said Marshall, MD, FACP, president and CEO, Comprehensive Women's Health, Inc. "I remember hearing the discussion about all these things that I had been experiencing as a business owner, and halfway through I thought, 'this is my tribe and these are my people.'
"WPO is a place where you can park your greatest vulnerabilities," said Margery Kraus, founder and executive chairman, APCO Worldwide, "where you have the total ability to feel like everyone's on your side."
According to Ida Abdalkhani, founder and chief catalyzer, Ability to Engage, Inc., it's the ROI. "WPO is a steal of a deal for the membership rate."
WPO and PNC posed this question and several others to five pairs of WPO members in preparation for a social media series called "WPO Perspectives presented by PNC." The new social series, launching May 3, is designed to increase awareness of WPO and the benefits of membership by featuring the stories and diverse perspectives of members themselves.
PNC is proud to support this mission. As part of our ongoing WPO sponsorship, PNC's Women's Business Development and Corporate Communications teams collaborated with WPO to create, record and edit the series. Short social media clips to be posted by WPO and PNC on LinkedIn, Twitter and Facebook will link readers to longer-form videos that will live on women-presidents.com.
Championing WPO is one way that PNC is helping to close the economic gender gap. In 2021, PNC launched Project 257®: Accelerating Women's Financial Equality, an initiative that puts an exclamation point on our two decades of advocacy for women financial decision makers. Project 257 was inspired by the World Economic Forum's 2020 Global Gender Gap Report, which found that it would still take women 257 years to catch up to men economically if more isn't done to level the playing field. That's not fast enough for PNC.
Primary drivers of the economic gender gap include women's underrepresentation in the workforce particularly in high-growth industries; pay inequity; and unequal access to credit. WPO helps to address all three of these issues.  By enlightening and emboldening women presidents around the world, WPO packs an economic punch. And what better way to tell this story than by offering a microphone and video camera to the members who are stronger personally and professionally because of their participation in WPO!
What's your WPO story? How has the relationship with your WPO sisters impacted you? Have you had a game-changing experience because of WPO? Tell us!
PNC will be recording more members' stories at the Entrepreneurial Excellence Forum in Las Vegas. Our roving reporters will be on hand during the opening reception on Wednesday to capture your in-the-moment reactions. On Thursday, we invite you and a WPO friend to visit the "WPO Perspectives presented by PNC Recording Studio" near the ballroom to record why WPO is special to you.
For more information, visit women-presidents.com/news-events/wpo-perspectives, the PNC Booth at the Entrepreneurial Excellence Forum, or contact Megan.Gilson@pnc.com.