Entrepreneurial Women of Impact Awards
The Entrepreneurial Women of Impact Awards is a joint collaboration between the Women Presidents Organization (WPO) and Women Elevating Women (W.E.W.). The awards are generously sponsored by JPMorgan Chase Commercial Banking to recognize the outstanding professional achievements and community service of women of color entrepreneurs based in North America.
Applicants do not need to be a WPO or W.E.W. member to apply.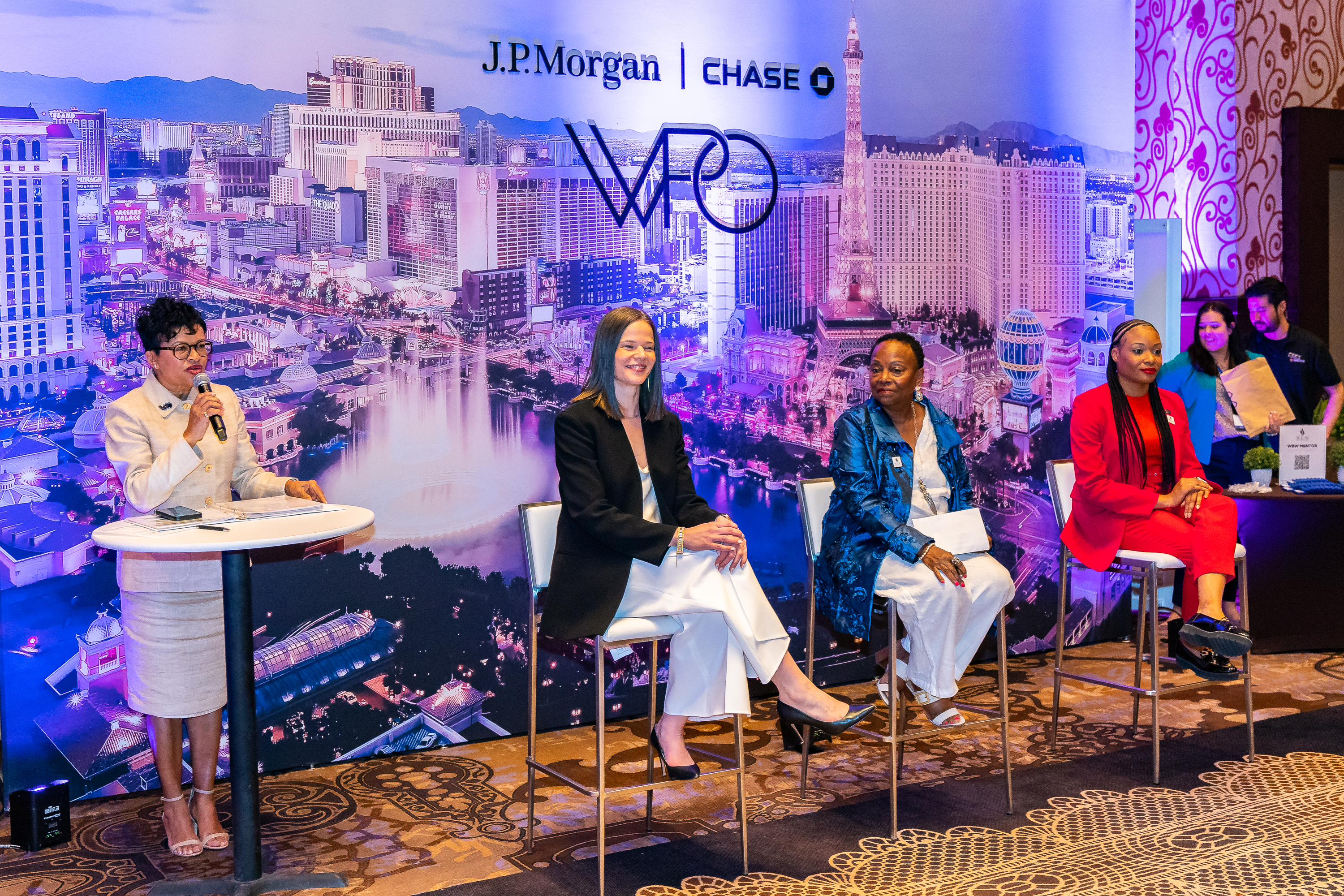 2023 Honorees
Ayeshah Abuelhiga, MDBC LLC dba Mason Dixie Foods (Baltimore, MD)
Marlene Andersch, rockITdata (Raleigh, NC)
Tamala Austin, J.I.V.E. Juice Company (Humble, TX)
Nooshin Behroyan, Paxon Energy & Infrastructure (Oakland, CA)
Miko Branch, Miss Jessie's, LLC (Ft. Lauderdale, FL)
Soyini Chan Shue, Overwatch Services LLC, dba City Safe Partners Security (New York, NY)*
Carolyn Chism Hardy, Chism Hardy Investments LLC (Memphis, TN)
Erica Dobbs, Dobbs Defense Solutions (Bowie, MD)*
Nancy Galvan, Unica Enterprises LLC (Dallas, TX)
Seena Hodges, The Woke Coach (St. Paul, MN)*
Roz Huang, Athena Music and Wellness Therapy, Inc. (Atlanta, GA)*
Priti Jain, Nao Medical (Roslyn Heights, NY)*
Olga Luz Lopez, CIMA Logistics LLC (Irving, TX)
Christine Maddela, Storyville RD, LLC (Las Vegas, NV)
Tonia Morris, Simply HR, Inc. (Atlanta, GA)
Tiffany Newhouse, Newhouse Project Consulting (Fairfield, CA)*
Maria Palacio, Progeny Coffee (Palo Alto, CA)
Hetal Parikh, Rangam (Somerset, NJ)*
LuzElena Rivers, Amera Solutions (Houston, TX)*
Wanda Rogers, Construction Service Workers (San Diego, CA)
Jade Simmons, Jade Media Global LLC (Houston, TX)
Robin S. Thorne, CTI Environmental, Inc. (Long Beach, CA)
Chaitra Vedullapalli, Women in Cloud (Sammamish, WA)
Chelsea C. Williams, Reimagine Talent Co. (Raleigh, NC)
*WPO Member
The History of the Entrepreneurial Women of Impact Awards
Previously known as the Women of Color Achievement Awards, the Women Presidents Organization (WPO) had partnered with 100 Black Men of America for over a decade to salute successful local women entrepreneurs. All award recipients were identified by a local chapter of 100 Black Men, in conjunction with the corresponding local chapter of the WPO. The WPO and 100 Black Men of America partnership enabled both organizations to acknowledge a distinguished group of influential women business leaders. As of 2023, a total of 26 cities have celebrated these awards.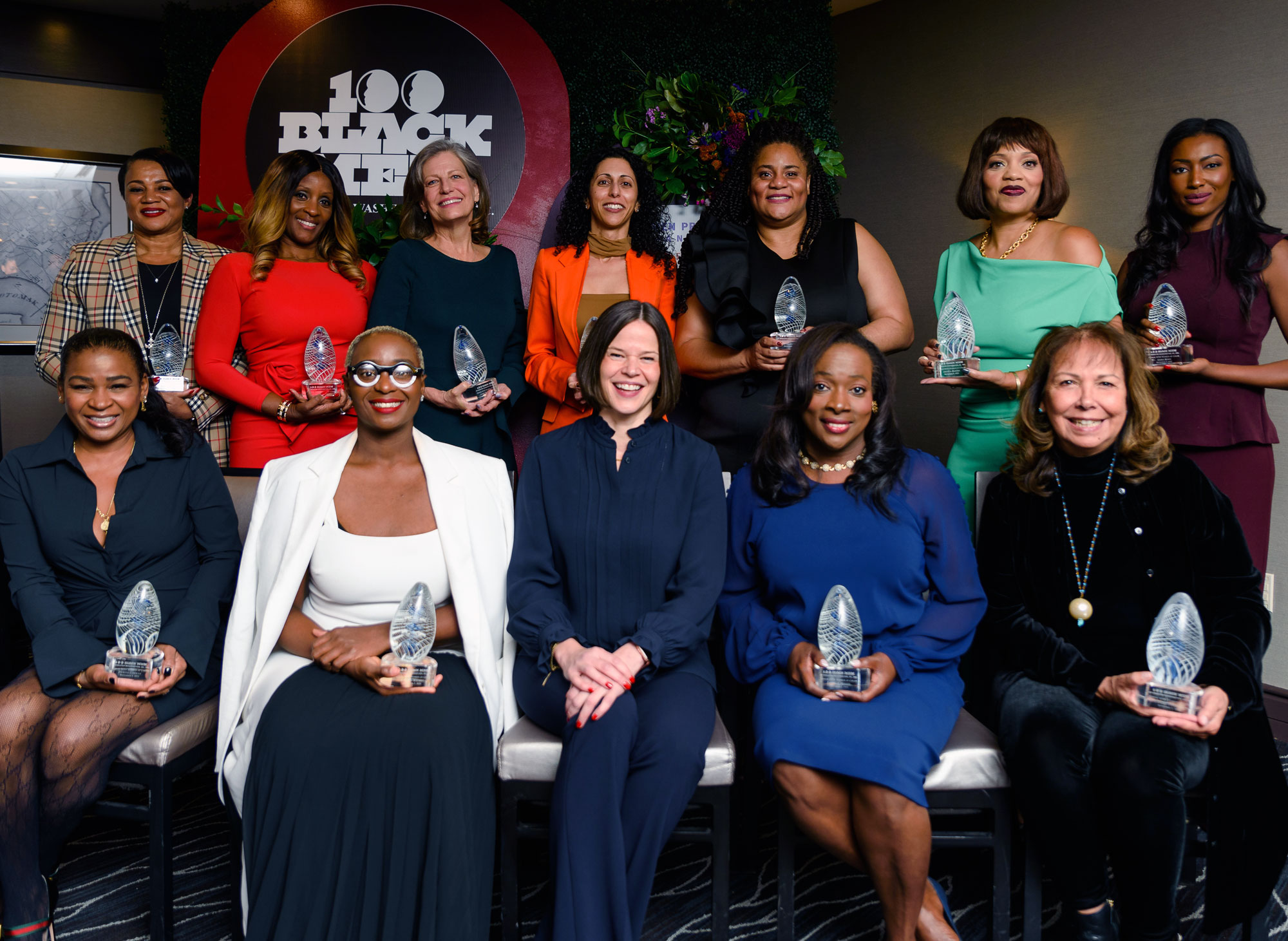 2022 Honorees
In partnership with the 100 Black Men, the WPO is proud to celebrate the honorees of the 2022 Women of Color Achievement Awards. The events took place in Houston, TX on October 6, and in Minneapolis, MN on October 19, thanks to the generous support of JP Morgan Chase Commerical Banking. A total of 38 women were recognized for outstanding professional achievement and for demonstrating exemplary service to their communities. We salute all the powerful award winners.
Johnte Archer, J. Archer Insurance
Zawadi Bryant, Acute Care Pediatrics*
Myoshia Boykin-Anderson, AndTech Solutions
Delaina Curry-Allen, Recruiting Source International, LLC.*
Danette Davis, Kay Davis & Associates
Shakeatha Davis, S. Davis Law Group
Nicole Odom Hardnett, Focus Point Behavioral Health
Brandi Harleaux, South Post Oak Recycling Center*
Bianca McWilliams Jackson, Recruiting Source International, LLC.*
Carla Lane, LaneStaffing
LaToshia Norwood, L'Renee and Associates
Teriya Richmond, MD, Your Total Health Clinic and Day Spa
Ramal Taylor, Millenia Strategies*
Marissa Williams, A Hug Away Healthcare
Luna Ahmed, ILM Professional Services*
Khadija Ali, Global Language Connections
Tonya Allen, McKnight Foundation*
Tawanna Black, Center for Economic Inclusion*
Alyza Bohbot, Alakef Coffee Roasters*
Shelley Carthen Watson, YWCA Minneapolis
Gloria Contreras Edin, Contreras & Metelska PA
Dr. Verna Cornelia Price, The Power of People Consulting Group
Gloria Freeman, Olu's Home, Inc.*
Lili Hall, KNOCK, Inc.*
Shawntera Hardy, PolicyGrounds Consulting*
Seena Hodges, The Woke Coach, LLC*
Damaris Hollingsworth, Design by Melo*
Domonique Jones, Partnership in Property Commercial Land Trust
Nancy Korsah, Black Business Enterprises*
Stephanie Lee, Carlson Partners*
Miquel McMoore, kpCompanies*
Sharmaine Meadows, Cradle of Love, LLC
Joyce Mogeni, Divine Healing Home Care, LLC
Priya Morioka, Global Language Connections
Brigid O'Malley, Reiling Construction Co, Inc.*
Maya Santamaria, Santamaria Broadcasting
Sharon Smith-Akinsanya, Rae MacKenzie Group, Inc.
Keiko Sugisaka, Maslon LLP*
*WPO Member
Apply To The Entrepreneurial Women of Impact Awards
To be eligible, applicants must be:
An entrepreneur with ownership in a privately-held, for-profit business
A Woman of Color* based in North America
The business must have generated at least $500,000 (USD) in revenue in 2022
Fit into one of the three application categories ($500k-$1M, $1M-$10M, $10M+)
The winners are chosen by WPO and W.E.W. with the approval of the sponsor, JPMorgan Chase Commercial Banking. Winners will be notified by email in mid-August. On Tuesday, September 19th, winners will be awarded at a ceremony during the 2023 W.E.W. Annual Conference in Minneapolis, Minnesota.
In-person attendance is strongly encouraged for all winners. There is no cost for the winner to attend the awards ceremony.
*Woman of Color is defined as any nonwhite woman whose ethnic identities intersect with one or more nonwhite ethnic group.
Applications are now closed for the 2023 Entrepreneurial Women of Impact Awards.
If you missed this year's deadline, we encourage you to apply in 2024.