This post is brought to you by BMO, a proud sponsor of the WPO
The COVID-19 pandemic has been brutal for many business owners who have faced months of lockdowns and other restrictions. Many have made it through by moving businesses online, cutting costs, taking bank loans and government assistance programs. But as the pandemic dragged on, it has become even more challenging to stay afloat. Many business owners are parents and are working remotely. Many are wearing multiple hats concurrently in the course of the day. In view of the pandemic-induced change in work dynamics, it has now become more important to turn to your trusted Financial Advisors to take some of that weight off your shoulders and to seek guidance and solutions on how to outlast this crisis.
More so for businesses that are cross-border in nature.
What is a Cross-Border Business?  A cross-border business refers to companies with operating entities and/or business undertakings in both Canada and the US. In general, cross-border refers to international business that cross any border.
Cross-border transactions can be complex because of certain local laws and regulations that must be complied with. This is the tricky part in cross-border business – one must be cognizant of and compliant to the extra territorial nature of certain laws and regulations. Do not forget the sanctions and penalties that come with breaching these laws. Added to this, are the differences in the business landscape between Canada and the US that you, as business owners, must be aware of.
In Cross-Border Banking, for example - these are the main differences that you should keep in mind:
The US has many more banks than we have here in Canada. US has at least 3,000 financial institutions where the Top 5 control ~ 57% of the market.
Canada has only 5 major banks controlling ~90% of the market.
This makes US banking highly competitive and very fragmented, compared to Canada's well-coordinated banking landscape.
Your Bank Advisor should make you aware of these differences and provide you solutions to address the differences and come up with a financing solution that will work best for your business.
For businesses that have operations north and south of the border, understanding the vast differences in banking environments is critical to optimizing working capital, streamlining processes, and controlling payment costs.
Here are five ways to streamline cross-border operations:
Find and implement the most efficient business model for the organization.
Look for opportunities that may arise from current situation, such as expanding a business, making a pivot, or doing a merger or acquisition. This is where advisors can step in and help with adapting to change or exploring creative business models.
The key for most business owners to keep moving forward is to ensure they have the cash flow to continue, whether it comes through financing, cost-cutting, selling assets, enhancing efficiencies, and the like.
Automate and Digitalize.
Eliminate ambiguity that can cause confusion among your staff.
Manual processing delays, human mistakes, and inefficient business processes are costing businesses thousands of dollars per year. In this fiercely competitive market, businesses should consider automating and implement digital technologies in order to remain competitive, boost productivity and efficiency, and raise profit margins.
There are various advantages to digitalization including improved customer experience, higher agility, enhanced employee morale, improved communication, increased transparency, improved competitive advantage, and faster decision making.
Ensure the business is protected on both sides of the border.
Examine processes and procedures on both sides of the border to prevent or minimize your risk from fraud.
Think beyond the movement of money to account for regulatory, legal, and cultural differences. 

When you cross the border, there are a lot of considerations that you must take into account: Tax, Regulatory, Legal, and Banking.
These are critical items to address because they impact your working capital, cash and payment processing.
Find the right Banking Partner to guide you through these challenges.
When running a business on both sides of the border, you will need to find the right Banking Partner to help you navigate through these nuances brought about by differences in banking landscapes between Canada and the US.
Not all banks have cross-border banking capabilities. Find the bank that has proven expertise and cutting edge technology on cross-border banking.
For a more streamlined experience, the best cross-border bank is the bank that offers you a single point of contact for all of your cross-border financing and payment activities north and south of the border.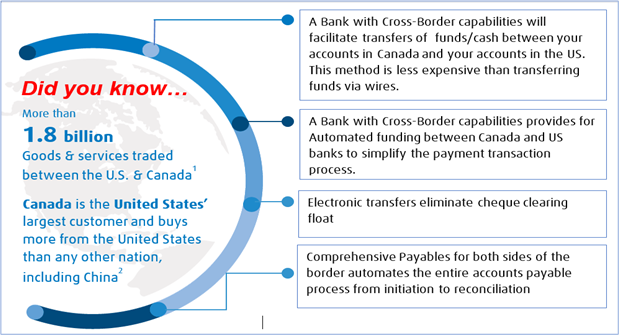 About The Author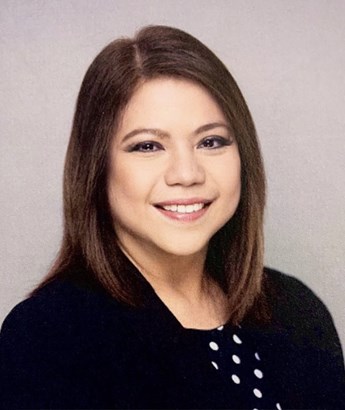 Helen Alvarez-Hernandez
Managing Director
Corporate Finance/Cross-Border Banking
BMO Bank of Montreal
Helen Alvarez-Hernandez is Managing Director at BMO Bank of Montreal, Corporate Finance Division where she heads the Cross-Border Banking Field Management Team located in BMO headquarters in Toronto, Canada. Helen specializes in Cross-Border and International Banking and has the unique experience to offer you an integrated perspective and expertise to guide you through the challenges and opportunities of cross-border banking.
You, as a business leader, understand that doing business in the U.S. and Canada is multi-faceted, with different tax regimes, market dynamics and regulatory systems. Helen can offer you an integrated perspective on how to accomplish your business goals on both sides of the border.
Email Helen to inquire about your Cross-Border Banking needs: helen.alvarez@bmo.com.