By Molly MacDonald, Founder and CEO of Pink Fund, a member of WPO's SE Michigan Chapter and proud sponsor of the 2023 WPO Entrepreneurial Excellence Forum
Best Practices for Finding a Nonprofit Partner
Corporate social responsibility (CSR) has become an increasingly important aspect of business. CSR can enhance a company's reputation, leading to a positive brand image in the eyes of its customers, investors, and stakeholders. This can increase customer loyalty, improve employee morale, and present opportunities for companies to differentiate themselves, build strong relationships with stakeholders, and ultimately drive growth. How can you find the right nonprofit partner for your company?
Define your company's values and goals: Before starting your search for a nonprofit partner, it's essential to define your company's values and goals for social responsibility. This will help you identify causes that align with your organization's mission and vision and enable you to find a nonprofit that shares your core values, as well as resonate with your employees and customer base. There should be an attraction to the mission, culture, voice, and branding. Customers recognize authenticity, so if you are genuinely excited by the partnership instead of just checking a box, it will yield a much more successful partnership.
Fleet Farms, a 48 store an American retail chain, was looking for a breast cancer charity to support in October. By making sure they chose a charity that would resonate with their customers, Fleet Farm raised a record breaking $187,586.84 through a round-up campaign at the register.
Conduct research: Research is a critical element of finding the right nonprofit partner for your company. Look for organizations that focus on causes that align with your company's values and goals. Consider factors such as the nonprofit's mission, programs, and impact, and review their financial statements to ensure financial stability.
Evaluate the nonprofit's capacity: Once you've identified potential nonprofit partners, it's important to evaluate their capacity to work with your company. Consider factors such as the nonprofit's staff size, budget, and ability to manage partnerships.
Analyze the partnership's benefits: As you evaluate potential nonprofit partners, consider the benefits that a partnership could bring to your company. For example, partnering with a nonprofit can enhance your company's reputation, increase employee engagement, and provide opportunities for community engagement. For example, Pink Fund is one of two charities supported by Ford Motor Company's Ford Warriors in Pink initiative to help provide transportation solutions for patients in need. With their support, Pink Fund is able to cover patients' car payments while they are in treatment, alleviating the transportation barrier so many patients face during treatment.
Establish clear expectations: Once you've identified a nonprofit partner, it's important to establish clear expectations for the partnership. It is critical to have a clear definition of what each party is offering, spelled out specifically (instead of "percentage of net profits" be specific like "10% of sales" or "$1 from the sale of each shirt in Oct."). There are consequences to the nonprofit for not following cause marketing guidelines (Pink Fund follows BBB's guidelines on Cause Marketing Disclosures), like meeting certain minimum donation amounts. A signed contract that clearly spells out the terms of the agreement really helps protect all three parties involved: the nonprofit, the company, and the consumer (either the end customer or the employees if the campaign is done internally). It provides a clear line of communication, so everyone knows the expectations. This allows both sides to promote the campaign with strong and effective messaging, and also ensures that the consumer knows exactly where their money is going.
Overall, finding opportunity in CSR requires a strategic approach and a commitment to creating shared value. By aligning social and environmental impact with business goals, collaborating with nonprofits, companies can not only do good but also do well.
In the end, a CSR program with a nonprofit should not just be a hand out, but a hand up.
About the Author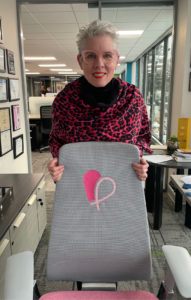 Molly MacDonald is a WPO member, the Founder and CEO of Pink Fund, a national nonprofit that provides a financial bridge for breast cancer patients in active treatment for non-negotiable, non-medical bills for housing, transportation, utilities, and insurance. Pink Fund's support impacts treatment adherence and survivorship outcomes.
Molly is a thought leader in the breast cancer space, specifically in cancer-related financial toxicity. She is a sought-after keynote speaker sharing her personal struggles which led to the founding of The Pink Fund while advocating for improved patient care.